Dancers Star in Competition Finale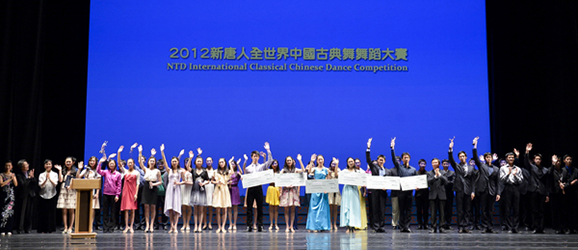 After three days of intense dance competition at New York's Tribeca Performing Arts Center, the results are in.
New Tang Dynasty Television's 5th Annual International Classical Chinese Dance Competition saw 41 finalists compete for gold Saturday. The winners, announced Saturday night in New Brunswick, New Jersey, included many of Shen Yun Performing Arts' principal dancers and rising stars.
Among the gold winners in four categories (youth and adult; male and female) were Shen Yun's Angelia Wang and Tony Xue, who won gold medals in 2010, as well as Chelsea Cai and Rocky Liao, who won gold in 2008 and 2009, respectively.
Other Shen Yun top winners this year included Melody Qin, Hsia-Hung Lin, and Chad Chen.
Judge Guo Xiu said that this year's contestants raised the bar even higher for performing difficult techniques. Indeed, they regularly drew cheers from the audience in the Manhattan theater for both their dance virtuosity and creativity.
During the final round, competitors brought to life an eclectic collection of Chinese historical figures and folk tales. Themes depicted from the female division ranged from celestial fairies to warrior heroines. Male dancers rekindled the determination of ancient heroes, the majesty of emperors, as well as literary characters and even poets.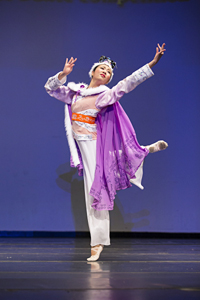 Chelsea Cai, Shen Yun principal dancer and gold medalist of this year's adult female division, chose to depict Lady Wenji, a Han Dynasty damsel forced to marry a far-flung warlord. Cai's dance portrays the inner conflict Lady Wenji faces—on the one hand, she longs for her homeland; but on the other, she's loath to leave her baby son behind. In a three-minute piece, Cai boldly places this internal turmoil in front of the audience.
Angelia Wang, another Shen Yun principal dancer and gold medalist, depicted Lady Mu Guiying, showcasing the ancient heroine's courage and loyalty. Wang deftly combined the expressivity of classical Chinese dance with tremendous physical flexibility and gravity-defying techniques.
To her, however, the art form is as much about its inner spirit. She said that classical Chinese dance allows her to cultivate her own character in daily life, following the ways of the ancients who championed morality in thought and action.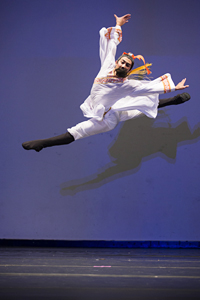 In the adult male division, winner Rocky Liao portrayed one of China's greatest poets, Su Shi of the Song Dynasty, visiting Red Cliff—the site of a bloody battle almost 1,000 years prior during the Three Kingdoms period.
"The eyes are an important part of this portrayal because he was a poet who was trying to picture this epic battle," said Liao, who conducted extensive research before choreographing the routine. "His eyes should reflect deep thought, and his movements should be intense and forceful."
On the other end of the emotional spectrum, Tony Xue, who shared the adult gold, depicted a lighthearted scholar in a dance he named: "A Free and Flowing Spirit."
"My interpretation is of the literati as a bit tipsy," said Xue, "because in ancient times scholars often used alcohol to take them to another mental realm in order to write beautiful verses for generations to come."
"I wanted to express an ancient scholar's attitude of transcending the temporal world—viewing the world with a positive mindset."
And now, after the competition, these dancers find Shen Yun's 2013 season premiere only a few weeks ahead. They shift away from being drunk scholars, visiting bloody battlegrounds, and marrying warlords, and return to preparing a whole new range of colorful characters and stories yet to be unveiled.
November 1, 2012