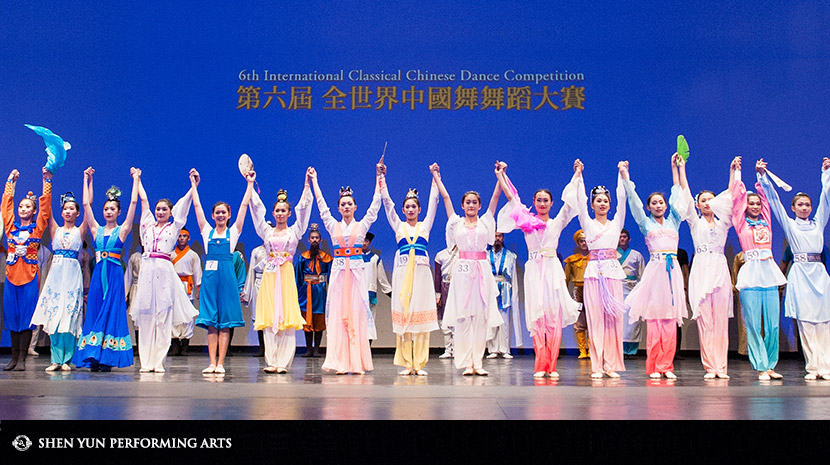 Tancerze Shen Yun laureatami najwyższych nagród
W ubiegłym miesiącu, na scenie nowojorskiej BMCC Tribeca Performing Arts Center wystąpiło ponad 40 zawodników - najlepszych na świecie tancerzy, w kategorii klasycznego chińskiego tańca - rywalizowali oni o złoto w organizowanym przez NTDTV "VI Międzynarodowym Konkursie Klasycznego Chińskiego Tańca". Zwycięzcy zostali ogłoszeni podczas ceremonii wręczenia nagród, którą uświetnił pasjonujący występ laureatów ostatniego konkursu.

Wielu spośród tegorocznych laureatów to artyści Shen Yun. Wśród nich znaleźli się główni tancerze Hsiao-hung Lin, Miranda Zhou-Galati, Chialin Chen i Daoyong Zheng, zdobyli oni złote medale. W kategorii męskiej, główny tancerz Jim Chen zdobył srebro, a Alvin Song brąz.

Sędzia Yungchia Chen powiedział, że techniki zawodników, forma tańca i wewnętrzna ekspresja artysty - główne elementy klasycznego chińskiego tańca - były na znacznie wyższym poziomie niż na poprzednich konkursach. "Jakość tańca jest bardzo wysoka, a poziom trudności osiągnął swój szczyt."

"Poziom zawodników był wyjątkowy, co sprawiło że nasze zadanie, jako sędziów, było bardzo trudne" - powiedział sędzia Vina Lee. "Chiński taniec obejmuje wyraz wewnętrznego znaczenia, pokorę, integralność męskiej siły i kobiecego wdzięku i dobroci. Kiedy zatem ci tancerze trenują, ćwiczą nie tylko technikę, ale także swój charakter."

Konkurs tańca NTDTV - jeden z serii dziewięciu konkursów - ma na celu promowanie tradycyjnej chińskiej kultury poprzez prawdziwy klasyczny chiński taniec. Zainspirowani tysiącami lat starożytnej historii, tegoroczni artyści, wcielając się w role legendarnych postaci, odtworzyli na scenie wiele ludowych opowieści ukazujących dawne wartości.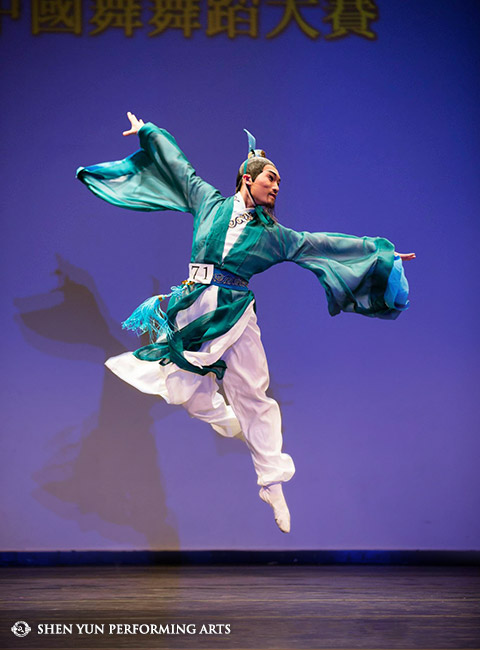 Jim Chen, znany z układów w technice wysokich lotów i znakomitego odtworzenia postaci Małpiego Króla, zatańczył postać jednego z najbardziej znanych chińskich poetów - Su Shi z dynastii Song. Przeplatając płynne ruchy z trudnymi akrobacjami w powietrzu, Chen wspaniale odegrał rolę na wpół-pijanego poety zastanawiającego się nad sensem życia.

"Czuję, że ludzie w starożytności byli szlachetni, egzaltowani i mieli bogate wnętrze" - powiedział pochodzący z Tajwanu Chen. "Różni się to od tego, jacy my dzisiaj jesteśmy. Uważam, że to jest fascynujące."

Alvin Song odtworzył rolę starego generała, który wspomina swoją dawną świetność na polu bitwy. Jego taniec inspirowany był cytatem z wiersza napisanego przez potężnego wodza Cao Cao w okresie Trzech Królestw, o tytule: "Choć żółw żyje długo". Cao Cao napisał w nim: "Człowiek o szlachetnym sercu, choć w podeszłym wieku, nigdy nie rezygnuje ze swoich wysokich aspiracji."

"Zainspirował mnie górnolotny charakter wiersza Cao Cao, wybrałem zatem ten utwór taneczny, aby przedstawić ów typ charakteru", powiedział Song z New Jersey. "Mężczyzna, nawet w podeszłym wieku, nadal ma aspiracje dotyczące osiągnięcia ambitnych celów, ale w rzeczywistość jego starość uniemożliwia mu powrót na pole bitwy, przez co nie może służyć pomocą, jest mu zatem ciężko na sercu."

Hsiao-hung Lin wykonała taniec zatytułowany "Lotos w sercu". Zagrała młodą dziewczynę, która w obliczu przeciwności losu, pozostaje wierna swoim przekonaniom. Użyła wewnętrznej ekspresji tak typowej i wyjątkowej dla klasycznego chińskiego tańca i w trzyminutowym utworze zawarła szeroką gamę emocji.

"Każdy ruch w klasycznym chińskim tańcu wypływa z serca" - powiedziała Lin, również pochodząca z Tajwanu. "Gdy zmieniają się twoje emocje, twój sposób wyrazu oraz ruchy również odpowiednio się zmieniają, ponieważ źródłem wszystkiego jest serce".

Miranda Zhou-Galati, z Toronto, postanowiła odtworzyć postać legendarnej bogini Nüwa, która w chińskiej tradycji znana jest z tego, ze stworzyła człowieka z gliny. Próba przedstawienia tej boskie istoty stanowiła dla Mirandy nowe wyzwanie
"W celu zobrazowania postaci, należy dobrze się w nią wczuć. Jednakże Nüwa jest istotą boską, której nie potrafię w pełni pojąć. Jedyne zatem co mogę zrobić, aby przedstawić jej altruizm i miłosierdzie, to stale doskonalić swój charakter i pozbyć się egoizmu."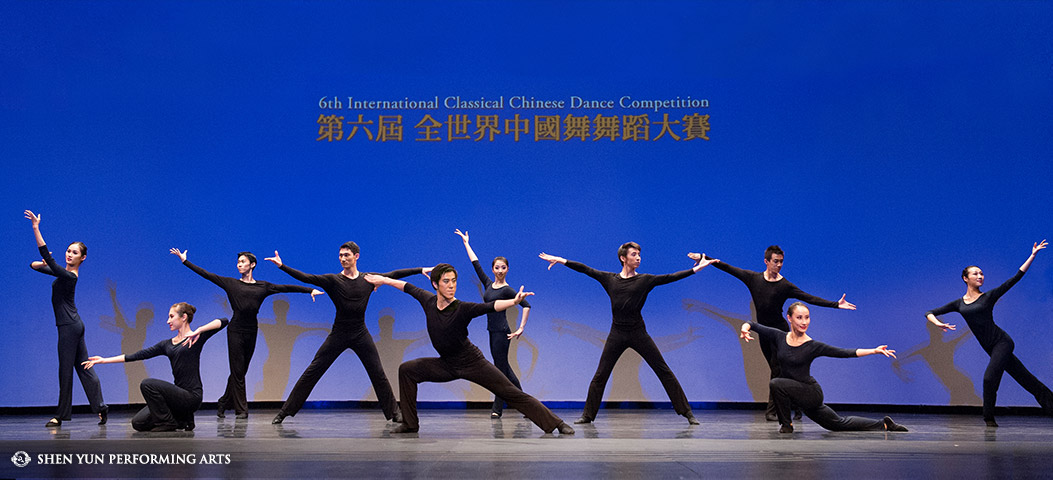 Tegoroczna ceremonia wręczenia nagród była poprzedzona prezentacją niebywałych technik tanecznych, w wykonaniu laureatów ubiegłorocznego konkursu. Dziesięciu dorosłych tancerzy: mężczyzn i kobiet, zdobywców złotych medali, w tym głównych tancerzy Shen Yun: Tim Wu, Rocky Liao, Angelina Wang i Melody Qin, powróciło na scenę w wyjątkowo zgranym przedstawieniu. Ich zwinne ruchy i zaprzeczające prawu grawitacji skoki, prezentowały najwyższy poziom klasycznego chińskiego tańca.

Po konkursie tancerze Shen Yun koncentrują się obecnie na swoim światowym tournee 2015 roku. Będą odtwarzać na scenie cały szereg nowych postaci, nowe opowieści i do tej pory jeszcze nieujawnione tematy.

With reporting from Epoch Times and New Tang Dynasty Television