Introducing: Shen Yun's Video Platform
OPENING A WORLD OF ARTISTRY, CULTURE, AND INSPIRATION
Audience members who loved their Shen Yun experience no longer need to wait a year for Shen Yun to return. A robust streaming platform has now opened up a world of artistic beauty, wholesomeness, and laughter—and made it available on demand.
The online platform is called Shen Yun Zuo Pin, which translates as "Shen Yun Creations." It now features over 600 videos and counting. These include past favorite dance performances from Shen Yun's archives, Symphony Orchestra concerts, never-before-seen dance stories, and all-original mini-operas. The platform also hosts instructional videos and masterclasses, vocal music, interviews with Shen Yun's stars, and comical movie shorts.
For years, audience members have been clamoring for DVDs they could take home with them. This online hub for all things Shen Yun is the answer to that, with content for a wide range of audiences, from avid fans and arts aficionados to children and aspiring dancers, singers, and musicians.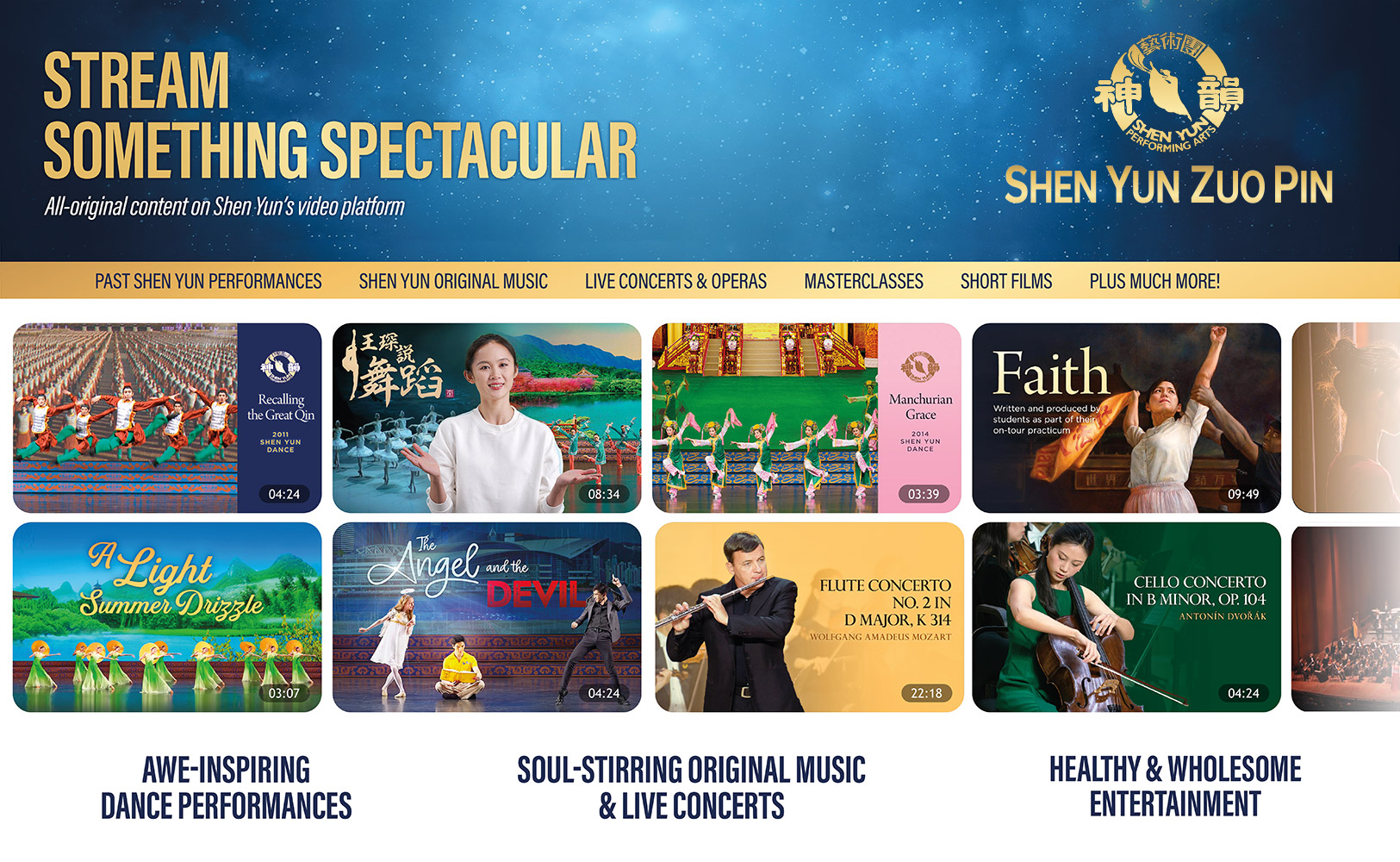 The three most popular videos so far are the original opera The Stratagem, Dance Techniques Showcase, and the dance mini-drama Dragon Gate Lodge.
The Stratagem Opera
Recorded in the fall of 2022, The Stratagem is a groundbreaking Shen Yun original opera. Set during the waning days of the Han Dynasty, it tells of a beauty trap brilliantly employed to get rid of a tyrant.
The Shen Yun opera is sung in bel canto, so it's nothing like the Peking opera people might associate with Chinese singing," says Rachael Yu Ming Bastick, who starred in the principal role of Diao Chan. "It's straightforward and each character is portrayed clearly. The music, lyrics, costumes, backdrop—everything's completely original. And, yes, there's English subtitles.

"What makes the opera so enjoyable to watch," she says, "is that it's both so lyrical and informative. It's such a unique way for the audience to learn and understand a story directly."
Not only for adults, The Stratagem has become a hit with the young crowd, too. One father recently shared that his 4-year-old son has watched it so many times the boy has it memorized.
"As parents, we're always trying to find quality content for our kids to watch," the father wrote. "Here we have a safe platform where we know they're getting something that's good for them and learning and enjoying themselves at the same time. We can't thank you enough!"
High-Flying Flips
Another of the top three videos on the platform is the Dance Techniques Showcase. It is 15 minutes of nonstop breathtaking aerials, flips, spins, jumps, and layouts. These showcase videos, of which there are several, are so motivating it is hard to watch them and not want to get up and do something remarkable.
In another video series, "The Technical Moves of Classical Chinese Dance," Shen Yun's principal dancers introduce these techniques one at a time, breaking down how these moves are trained and what it takes to perform them well.
And there is much more for dance lovers—recordings of annual dance exams, dance competition videos, and a series of foundational training routines. And Shen Yun star Angelia Wang has her own video channel there—"Angelia on Dance."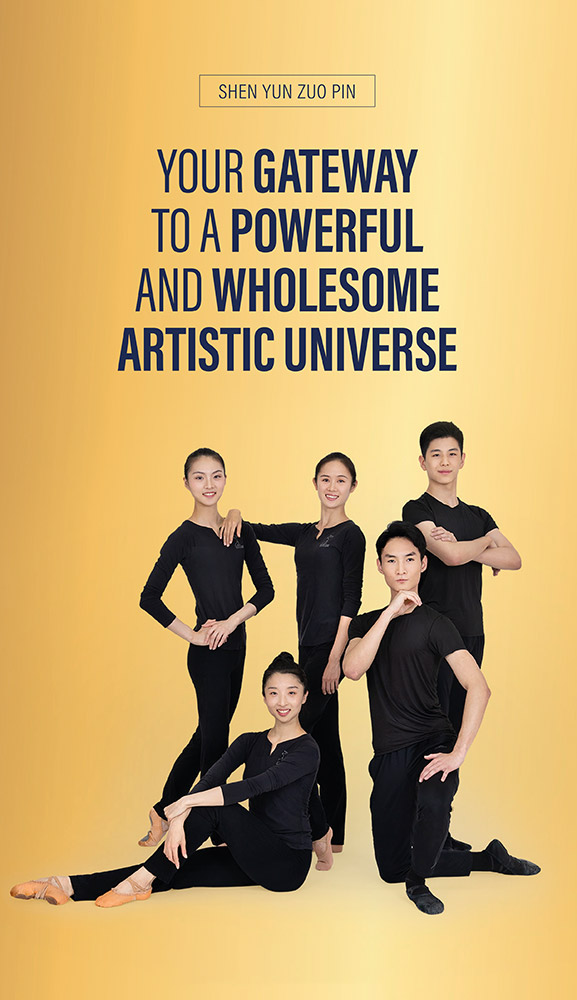 Stories to Binge On
A good segment of the platform consists of stories and lighter content, like Dragon Gate Lodge. This dance story humorously tells a historic episode involving defiant Buddhist monks, a tale enhanced by special effects and a dose of slapstick.
New videos are constantly being uploaded, but in the ones already available you can watch dance props come to life, new black-and-white renditions of Charlie Chaplin, and even Finnish elves.
There's also an entire library of behind-the-scenes footage courtesy of the "Three Musketeers." These three dancers publish episodes with topics ranging from "How Shen Yun dancers are perfectly synchronized" to "A day in the life of a Shen Yun dancer."
"Few people know what our lives are like off-stage," says Musketeer Sam Pu. "Our channel offers this inside view. And it fits in nicely with the platform, because it offers exclusive classical Chinese dance and music content that can't be found anywhere else on the web."
Longtime fans will recall how Shen Yun premieres an all-new production every year. Once tour was over, all the stories and dances were gone forever. But Shen Yun's artistic team diligently recorded every production along the way, and now they have made them public.
"I really enjoy watching the early Shen Yun pieces," says Sam Pu. "These are the ones that actually inspired me to start dancing when I saw them in the theater and, up until recently, they were so exclusive you wouldn't have had access to them no matter how much money you paid."
Among the "Early Shen Yun Pieces" are favorites like Wu Song Battles the Tiger, Plum Blossom, Tang Imperial Drummers, and a hundred others.
Musical Collection
The platform further includes a vast music library with both original works and classical masterpieces performed by Shen Yun Symphony Orchestra.
"On the one hand, the platform has entertainment—video recordings of our dance program, Symphony Orchestra, short films, etc.," says longtime Shen Yun conductor Milen Nachev. "And on the other, you have the educational aspect, including interviews, masterclasses, and dance training.
"It's enriching and relaxing, and is wonderfully abundant."
To explore the platform, visit: ShenYunZuoPin.com.