President's Award Recipient: "Such Heavenly Scenes Cannot be Found on Earth"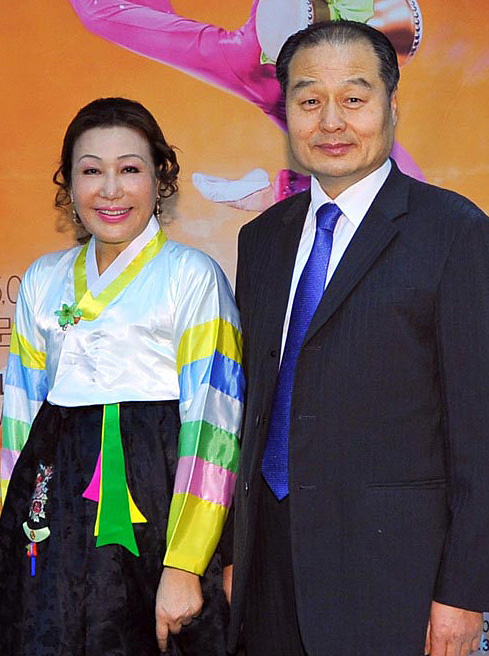 Ms. Choi Yun Xi with her husband at
Jeongsimhwa International Cultural Center.
DAEJEON, South Korea— Celebrated Korean dancer and President Award recipient, Ms. Choi Yun Xi, attended Shen Yun New York Company for her fourth straight show at Jeongsimhwa International Cultural Center.
"The people who can watch Shen Yun perform, they must be especially selected. I believe only the very fortunate are fated to come, for this is an optimal performance."
Shen Yun Showcases the Ultimate Beauty
Dancer Ms. Choi is also the artistic director of Hongseong County Dance Troupe. "The backdrop of Shen Yun was overwhelmingly beautiful, like a dream," she said, "The dance movements, the choreography, and the historic connotations made me wonder whether they were of human creation. How could they be so brilliant? They are beyond words. It's so wonderful, and so amazing!"
After watching Shen Yun for the first time in Daegu, Ms. Choi returned, bringing her husband, president of Daejeon Traditional Music Society, Mr. Oe Zheng Huan, to watch the show together again. Mr. Oe shared his wife's excitement: "Shen Yun transcends the bounds of human arts, and showcases the ultimate beauty. It's reminiscent of divinities in the heavenly paradise."
"These artists' bodies were very elegant, different from other dancers. They were fully devoted," Ms. Choi added, "Their dancing movements connected together perfectly. The agile jumps were energetic and really marvelous. It's hard to believe how people could perform such movements so beautifully."
Imitating Shen Yun Movements and Feeling Divine
At home, Ms. Choi said she tried to imitate movements from Shen Yun dances multiple times. She said the experience was splendid, and made her feel simply divine.
"I want to experiment with this type of dancing. I wish to teach it," she said, "Dancing in this way opens up one's blood circulation. It's purifying. People will become healthier."
Only the Very Fortunate are Fated to Come
After watching four continuous shows, Ms. Choi held different reactions each time. "Today is my fourth time, and every time I feel differently. I find this fascinating," she said, "Yesterday I may have missed something, and today I've caught on to something else. It's like a dream. I even pinched myself to make sure it wasn't."
"While watching the show, I felt like I was in heaven. If people watch this production, their inner souls will be purified, they will turn benevolent. So we must watch repeatedly."
"It's such a shame for those who cannot see the show. This is really a performance for the very fortunate," she added, "My heart pounds when I think of this."
Ms. Choi said she will travel to Anyang to continue watching Shen Yun and plans on bringing many of her friends from the arts community: "because Shen Yun brought me such heavenly scenes, which cannot be found on earth."
February 26, 2012